Working In The UK
An Overview of Construction Employment in the UK
The construction market in the UK is showing ongoing signs of strength.  Barbour ABI quotes GBP7 Billion of new contracts awarded in September 2015 (rolling 3 month average).
Many professionals employed in the construction industry across the UK are enjoying rising salaries, improved packages and promotions facilitated by growing order books.
Although the extent and exact details of construction growth and career opportunities vary around different parts of the UK, it is universally the case that the UK construction industry can't get hold of enough skilled people to employ either from the UK or from talent pools overseas.
At Maxim Recruitment, the number of building and civil engineering/infrastructure jobs we are filling from our UK office is constantly rising, as is the need to find more Quantity Surveyors who are seeking employment anywhere around the UK.
Take a look at our sections on relocating to the UK:
Construction Contracts Awarded by Region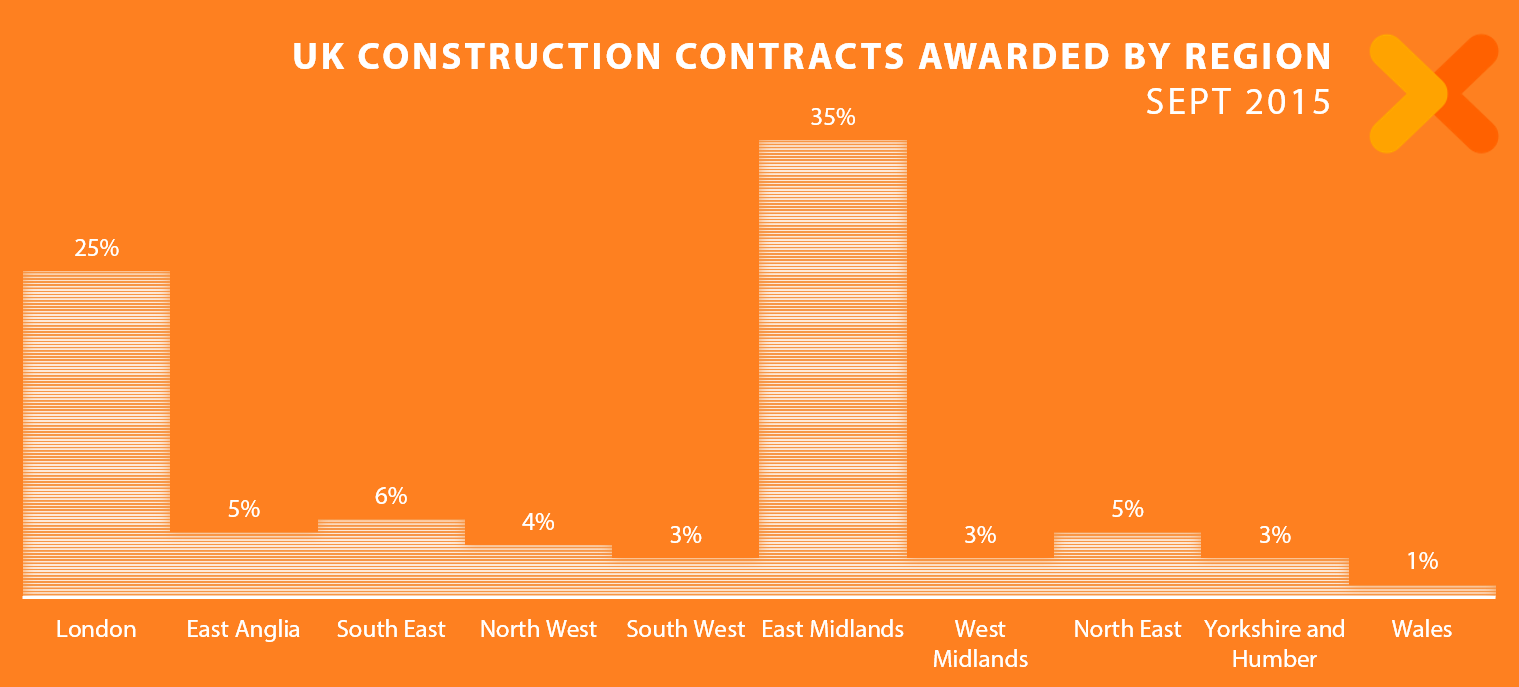 Source: Barbour ABI Economic Construction Market Review
Here's a Quick Summary of Where the Skills are in Demand
Quantity Surveyors, Project Managers, Engineers, Planners, Health and Safety and Estimators are all in need across the UK. There are job vacancies on the Maxim Recruitment website relating to these and many other professions.  The main concentration of projects, and therefore vacancies is on London and the South East of England.  

Outside of London, the highest demand can be found in the UK's other major cities. In particular Manchester, Birmingham, Liverpool, Nottingham and Cambridge have been areas in which Maxim have seen large numbers of construction job vacancies.
Salaries will vary between regions within the UK.  The cost of living in London and much of the south east of England is higher than in the Midlands and the north of the country and salary levels usually reflect this.
London Construction
The highest levels of skill shortages are present in Central London and in the South East of England. Huge redevelopment projects are taking place in London. Numerous cranes are again a familiar site in the capital, often on the sites of high rise luxury apartment developments,  

Huge infrastructure projects such as Thames Tideway, Crossrail and the planning and design stage for HS2 are just a few projects that have or will have large numbers staff involved on various phases.
Building vs. Infrastructure
Commercial and retail projects are consistently the highest proportion of contracts awarded by value.

The infrastructure sector is increasingly strong, enhanced by wind farm and renewable energy projects and several improvement contracts for road schemes.  Within infrastructure, renewable energy and utility contracts are dominant.
Commercial and Retail More Active
Commercial and retail sector contracts amounted to £1.2bn in June 2015, based on a 3 month rolling average. The number represents a nearly 100% increase from May 2015 and more than 40% increase from June 2014.
---
UK CONSTRUCTION BY REGION
London
Highlights include:
Mixed use schemes such as Battersea Power Station redevelopment, the Kings Cross area redevelopment and Wood Wharf, part of the Canary Wharf development. This commercially led 10 year project comprises residential units, hotel uses and also leisure facilities.
London is consistently accounting for over 1/4 of UK residential development costs.
Thames Tideway Main Works have now been awarded worth GBP746m which will run to 2022.
Search all Jobs in this Region
South East
Highlights include:
Various major road improvement and term maintenance project awards
A number or industrial and warehousing projects
Search all Jobs in this Region
South West / Wales
Highlights include:
A number of residential construction projects
Ongoing utility framework contracts
Search all Jobs in this Region
Midlands / East Anglia
Highlights include:
An offshore wind farm GBP3Billion
GBP200m Defence and National Rehabilitation Centre
Search all Jobs in this Region
North
Highlights include:
A GBP90m mixed use development in Manchester
A GBP150m renewable energy plant on Teeside
A GBP15m 'Green Port' inc. turbine maintenance buildings
Search all Jobs in North & Scotland
Scotland
Highlights include:
A GBP18m hotel in central Glasgow
GBP21m of school/college developments in Strathclyde
Search all Jobs in North & Scotland
We also have international quantity surveying and construction job vacancies available in other countries.  Explore more at Working In Dubai and The Middle East and Working In Hong Kong and Asia.